ENG vs IND: Suryakumar Yadav's ton goes in vain as India sinks to 17-run defeat against England in final T20I
ENG vs IND: Suryakumar Yadav's valiant century was in vain as India lost to England by 17 runs in the third and final T20I of the series on Sunday in Nottingham at Trent Bridge.
For India, the inning was dismal. Within a relatively short period of time, they lost their top order. Centurion Suryakumar Yadav (117*) and Shreyas Iyer (28), who combined for 119 runs, gave India a chance to win the game. However, English turned the tide of the match in their favour by getting wickets at critical moments and preventing a clean sweep for the Men in Blue. India has a 2-1 series victory. India had a horrible start to their 216-run chase, losing Rishabh Pant for only one in the second over. Medium-pacer After wicketkeeper and captain Jos Buttler caught Pant behind, Reece Topley sent him back to the pavilion.
Virat Kohli was now at the crease as a result. In the third over, he looked strong, hitting David Willey for a four and a six. However, he was out in that over for just 13 while attempting to smack a wide-length ball. Jason Roy received the ball in his hands without incident.
The next player to take the crease was Suryakumar Yadav. With the help of some good strokes and consistent running between the wickets, Rohit and Suryakumar attempted to form a partnership, but it was broken at 18 runs when Topley dismissed Rohit for 11 with the help of Phil Salt's safe hands. India was in trouble since its top order had been sent packing in just 31 runs.
On the crease next was Shreyas Iyer. India was 34/3 after six overs, with Suryakumar Yadav (8*) and Shreyas Iyer (1*).
As he continued, Suryakumar Yadav made some excellent strokes. In the ninth over, he severely punished Liam Livingstone's spin, hitting him for three exquisitely placed fours. In just 29 balls, the pair set up their 50-run partnership.
India had 82/3 after 10 overs thanks to Suryakumar Yadav's (41*) and Shreyas Iyer's (14*) contributions.
The pair continued to score runs, with Yadav taking 32 balls to register his seventh T20I half-century. Thanks to a six by Yadav off a Liam Livingstone ball, the 100-run milestone was reached in 12.1 overs, keeping the scoreboard moving forward. After reaching fifty, Yadav went incredibly aggressive, hitting Livingstone for two additional sixes in the same over. 21 runs were lost overall because of the over.
Iyer-Yadav continued to score runs, with Yadav taking the initiative while Iyer acted as the centre. In just 54 balls, the pair put together a 100-run stand.
With Suryakumar Yadav (93*) and Shreyas Iyer (28*) at the end of 15 overs. In the final five overs, India needed 67 more runs. India was now ahead in the match.
Iyer was caught behind by wicketkeeper Buttler, and Topley delivered his team the crucial wicket for 28 runs. Iyer and Yadav's 119-run partnership was broken, and Topley claimed his third wicket of the game. The next player on the crease was Dinesh Karthik.
The formula had been reduced to 61 runs of 24 balls. Yadav scored his first T20I century off just 48 balls, which included 12 fours and 5 sixes.
After Karthik was caught leg before wicket by Willey for 6, sinking India to 166/5, India's attempt to chase down 217 runs was severely derailed.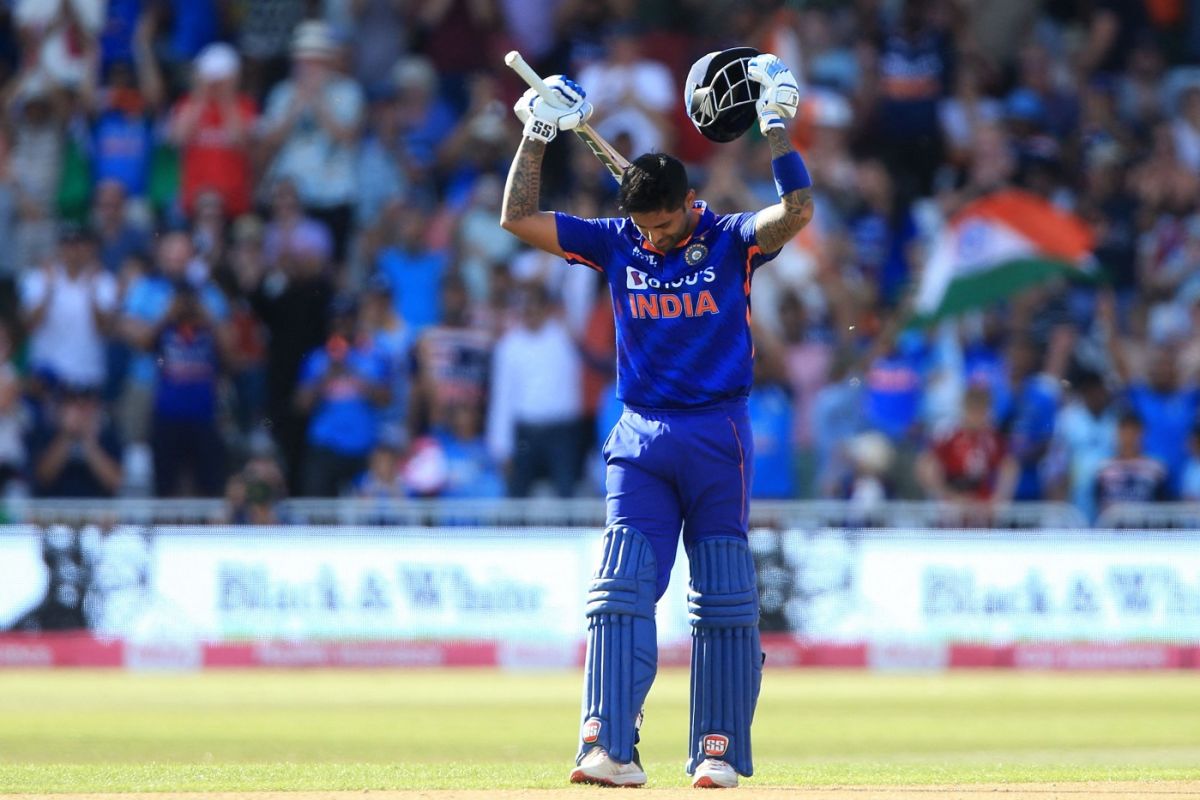 Ravindra Jadeja, an all-arounder, will take the field next. After trapped lbw by Richard Gleeson, his brief time at the crease came to an end with seven runs.
The next player on the crease was Harshal Patel. In two overs, the target reduced to 42. With two fours and a six in the 19th over, which delivered by spinner Moeen Ali, Yadav kept India in the game. However, Ali emerged victorious, dismissing Yadav for 117 runs off 54 balls after caught by Salt at long-off.
The final over required India to score 21 runs. Avesh Khan (1*) helped Men in Blue reach 198/9 in 20 overs, but they still fell short by 17 runs. Chris Jordan bowled the final ball of the game, dismissing Harshal Patel.
With a score of 3/22, Reece Topley was the best English bowler. While Gleeson & Ali each took one wicket, Jordan & Willey each took two.
Earlier, in the third and final T20I against India on Sunday at Trent Bridge in Nottingham, a half-century from Dawid Malan and a strong unbeaten innings from Liam Livingstone enabled England to a commanding 215/7 at the end of their innings.
The English batting lineup had a tremendous day as they produced a frightening total and began to gel for the first time in the series. The hosts' cause boosted by strikes from Dawid Malan (77), Liam Livingstone (42) and Jason Roy (26). The finest bowlers for India were Ravi Bishnoi and Harshal Patel, who each took two wickets, while Avesh Khan and Umran Malik each took one.
Opening batsmen Jos Buttler and Jason Roy gave England a strong start after choosing to bat first. Umran Malik, a pacer, aggressively preyed upon by the attacking pair, who smashed him for 17 runs in his first over. The pair maintained a steady score until pacer Avesh Khan clean bowled England's skipper Buttler for 18 off nine deliveries, giving them their first shock at the score of 31 runs.
Dawid Malan the next batter to get into the batter's box. Between the wickets, the pair kept up their strong running and showed off some fine strokeplay. England had Roy (23*) and Malan (7*) at 52/1 at the end of the powerplay.
Malan and Roy's promising 30-run partnership broken in the eighth over of the match when Malik dismissed Roy for 27 off 26 balls after the ball hit the top edge of his bat and went straight into wicketkeeper Rishabh Pant's hands.
The very next ball Phil Salt faced resulted in his being on the board with a boundary. Malan-Salt was unable to continue for too long because pacer Harshal Patel's brilliant slower yorker cleanly bowled Salt. England had lost their third wicket at 84 runs when Salt returned to the hut for just 8 runs.
England was at 86/3 after 10 overs, with Malan (27*) and also Liam Livingstone (1*).
Malan continued to play exceptionally well with the bat, opening the Ravindra Jadeja-bowled 12th over with a four and a six. With his four on the opening ball, England surpassed the 100-run threshold. With a double in the following over, he quickly reached his 12th half-century in the T20I format. After achieving the milestone, Malan kept on hitting, hitting Malik for a four and a six.
With Livingstone providing 13 runs and Malan being the more aggressive, Malan brought up their 50-run stand in 25 balls. England scored 150 runs in the game's fifteenth over.
With 152/3 on the board at the conclusion of 15 overs thanks to Malan (77*) & also Livingstone (15*), England appeared to be in a strong position.
Livingstone-Malan continued to score runs to put pressure on India. However, the Men in Blue came back strongly and ended the 84-run stand between the two after the latter dismissed following a blistering 77 off 39, which included six fours and five sixes. He attempted to slug a Ravi Bishnoi delivery into the air but Pant intercepted him.
Next on the crease was Moeen Ali, who caught at backward point by Harshal Patel for a golden duck dismissal. Also things had swung in India's favour with two wickets in one over. For 169, half of the England squad remained in the hut.
The next player to bat was Harry Brook, who smashed two fours in his first two balls. Livingstone kept up his offensive strategy from the opposing side as well. The pair's quick-fire 28-run partnership broken up in two overs when Brook attempted to hit Harshal's delivery big but caught by Bishnoi at deep midwicket.
England scored 200 runs in the game.
With Livingstone (42*) and also Chris Jordan, who run out for 11 runs on the final ball, England completed their innings at 215/6.
The bowlers of choice for India were Ravi Bishnoi and Harshal Patel, who respectively took 2/30 and 2/35 in their four-over spells. Both Avesh Khan and Umran Malik were capable of taking a wicket.
Brief Scores:
England- 215/7 (Dawid Malan 77, Liam Livingstone 42*, Ravi Bishnoi 2/30) defeated India- 198/9 (Suryakumar Yadav 117, Shreyas Iyer 28, Reece Topley 3/22) by 17 runs.
The post ENG vs IND: Suryakumar Yadav's ton goes in vain as India sinks to 17-run defeat against England in final T20I appeared first on CricTelegraph.